CCBC's CANADA DAY FAIRS IN BEIJING
CCBC's CANADA DAY FAIR CCBC's 2018 Canada Day Fair June 23, 2018   ~ ~ ~   Beijing Canada Day Fair Activities DISCOVER THE BEST CANADA HAS TO OFFER! Bring the family out for an action-packed day, with a kids zone and family activities! CCBC's Canada Day Birthday Fair...
read more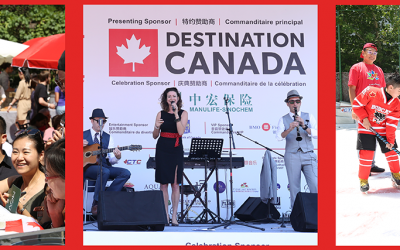 Over 60 different Canadian organizations participated in CCBC's 2017 Canada Day Fair in Beijing. The event attracted over 2,000 on-site guests and customers and gave them the opportunity to sample and purchase Canadian food, wine, and consumer products. The Fair highlighted cooking demonstrations that featured Canadian lobster, beef, and seafood, a hockey rink, and live Canadian bands. The Fair was broadcast live across China, facilitated by Destination Canada and JD.com, and viewers could purchase everything that was presented at the Fair, from food and beverages to skin care products and high-end housewares.
read more