CCBC's 39th AGM POLICY CONFERENCE AND GALA BANQUET
CCBC's AGM Policy Conference and Gala took place in Toronto on Thursday, September 21, 2017. The sold-out event welcomed senior executives and Chinese delegates, and provided them with a platform to share their experiences and knowledge when doing business between Canada and China.
Plenary Session – Guest Speakers
The day opened with guest speakers John Tory, Mayor of Toronto, LU Shaye, Ambassador of the PRC to Canada, and the Honourable John McCallum, Ambassador of Canada to the PRC.
Throughout the day, attendees heard from panelists who offered their insights and observations of business opportunities and possible obstacles facing bilateral trade and investment. During the breaks and meals, guests took advantage of the time to network and make new connections.
The evening Gala began with a special message to CCBC members and guests from Prime Minister Trudeau.
Guests then heard from the Honourable Bardish Chagger, Leader of the Government in the House of Commons and Minister of Small Business and Tourism, and the Honourable François-Philippe Champagne, Minister of International Trade. The Ministers discussed the government's direction for trade and investment with China as well as encouraged Canadian entrepreneurs and business people to grow the Canadian economy by actively pursuing the rapidly developing China market.
The Gala's featured guest speaker was Michael Evans, President and Director of Alibaba Group. Sarah Kutulakos, Executive Director of CCBC, discussed Alibaba Group's influence on the China economy and its impact on the global business stage. Mr. Evans explained to the audience how this influence and impact opens many new avenues for businesses that have yet to be explored.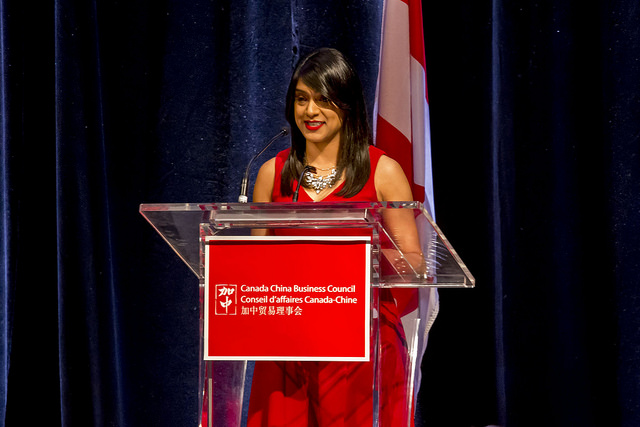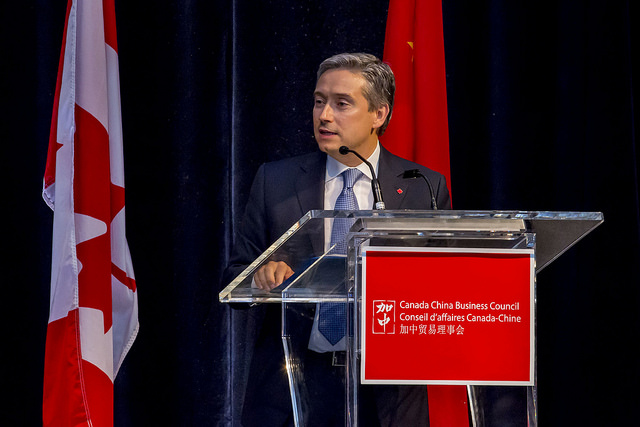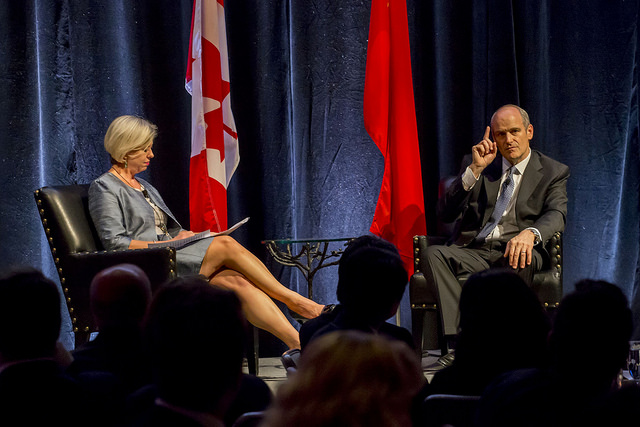 During the day, five sessions and three breakout sessions focused on a variety of topics that addressed Canada-China investment, global brands, the digital economy, SMEs, cleantech, and education.
Lessons from the C-Suite
Canadian and Chinese CEOs reveal how they built their bilateral businesses, overcame challenges, and changed their worldview as their companies evolved.
Moderator (far left):
The Honourable Stockwell Day
Senior Strategic Advisor, McMillan LLP
Panelists (from left to right):
Barry McInerney
President and CEO, Mackenzie Investments
Nicholas Thadaney
President and Chief Executive Officer, Global Equity Capital Markets, TMX Group
Donald Walker
CEO, Magna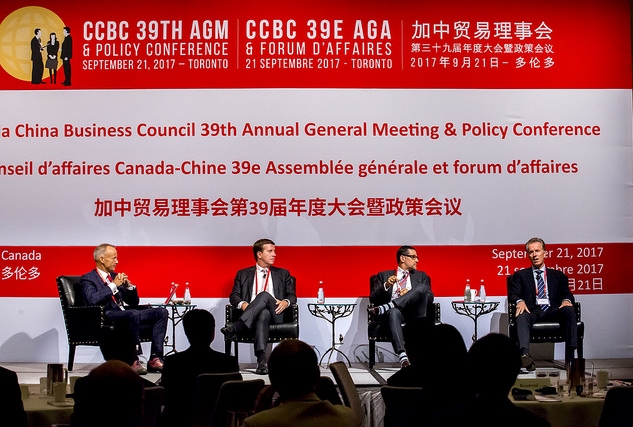 Session 1: Internationalization of Chinese Companies
Chinese companies are not only investing abroad; they are becoming truly international, and with increasingly strong brands. Executives from several sectors talk about their journeys and the role Canada plays in their global footprint.
Moderator (far left):
Ken Su
National Leader, China Business Network, PwC
Panelists (from left to right):
Jason Wang
President, China Zhongguancun Private Equity and Venture Capital Association (ZVCA)
Steve Lu
President, HUAWEI Technologies (Canada)
Holly Zheng
CEO and President, BlueFocus International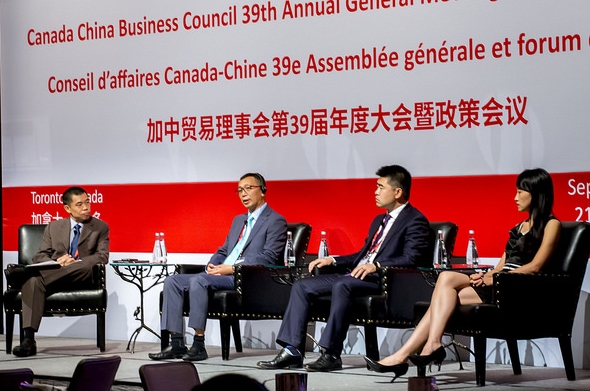 Session 2: Seizing the China Market Opportunity: How Canadian Companies Can Succeed
Every business needs a China strategy. If you don't have one, your competition will. Hear from Canadian companies in seafood, advanced manufacturing, and healthcare that are successfully selling to China.
Moderator (far left): 
Janet De Silva
President and CEO, Toronto Region Board of Trade
Panelists (from left to right):
Don Holdsworth
VP Global Marketing, Clearwater Seafoods
Iain F. McColl
President and CEO, Hibar Systems Ltd.
Carrie Solmundson
President and CEO, Seven Oaks General Hospital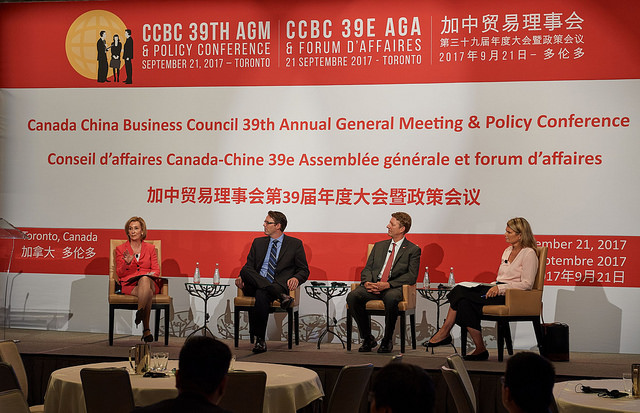 Session 3: Investing in Canada – The Next Stage
Chinese investments in Canada tend to reflect China's market needs, including those of the booming middle class. Canadian partnerships and acquisitions help Chinese investors internationalize and build capability which, in turn, grow the Canadian economy and develop new markets. Discover how Chinese investors contribute to Canada and to their sectors in unique ways.
Moderator (far left): 
The Honourable John R. Baird, P.C.
Former Canadian Minister of Foreign Affairs;
Senior Advisor, Bennett Jones LLP; Global Strategic Advisor, Hatch Ltd.
Panelists: (from left to right)
Michael Liu
Head of Strategy and M&A, General Manager of International
Businesses, Xiwang Group
Terry Luo
CEO
Meridian Lightweight Technologies Inc.
Harry Wang
Chief Representative in Canada
China State Construction International Limited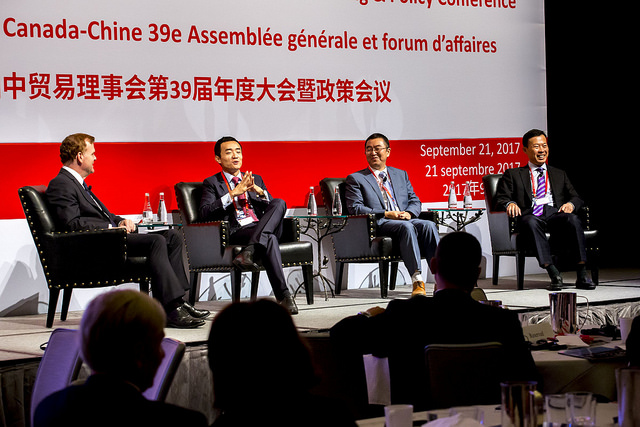 Session 4: China's Digital Economy
China's e-commerce, mobile payments, and sharing economy industries outpace those in North America. To be and remain competitive, Canadian exporters must use innovative e-commerce platforms to broaden their channels in China. China's digital developments will also impact Canadian tech companies and financial service providers. This session will offer insight and advice for companies involved in the digital economy.
Moderator (far left):
Ashleigh Au
China Business Consultant
Former Special Assistant to CEO, SOHO China
Panelists (from left to right):
Andrew Fang
Vice President
OTT Financial Group
Ben Ghalmi
Vice President, Overseas Markets
JUMORE E-Commerce Co., Ltd.
Sheyna Horowitz
Senior Business Development and Merchandising Manager