La voix des leaders en commerce Canada-Chine
Être membre du Conseil d'affaires Canada-Chine signifie accéder au commerce. Nous sommes un organisme bilatéral à but non lucratif, qui fonctionne par inscription et possédant six bureaux au Canada et en Chine. Notre organisme, fondé en 1978, est depuis 40 ans la voix des leaders d'entreprises Canada-Chine. Il vous fournit les connaissances et les liens dont vous avez besoin pour réussir au Canada et en Chine.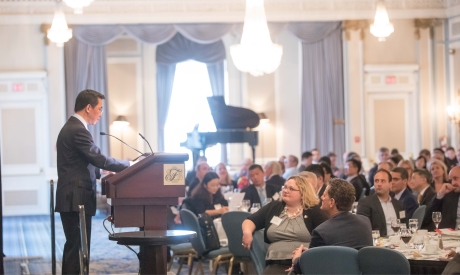 LU Shaye, Ambassador of PRC to Canada, addresses CCBC members in Calgary.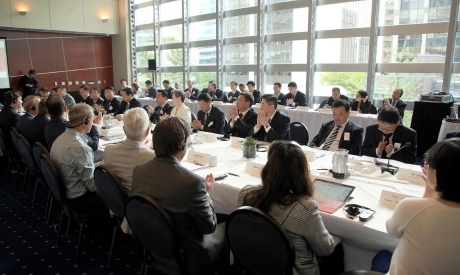 Business meeting between CCBC members and Chinese executives.
151e Fête du Canada
Le CCBC a présenté la 151e édition de la fête du Canada à Beijing ! Il y avait des musiciens, canadiens, des démonstrations de hockey par la Ligue nationale de hockey (LNH), des kiosques mettant en vedette la gastronomie et le vin canadiens, une zone mode dynamique et la possibilité de découvrir, d'essayer et d'acheter une grande variété de produits canadiens. C'était le plus grand évènement pour la fête du Canada à l'extérieur des frontières canadiennes!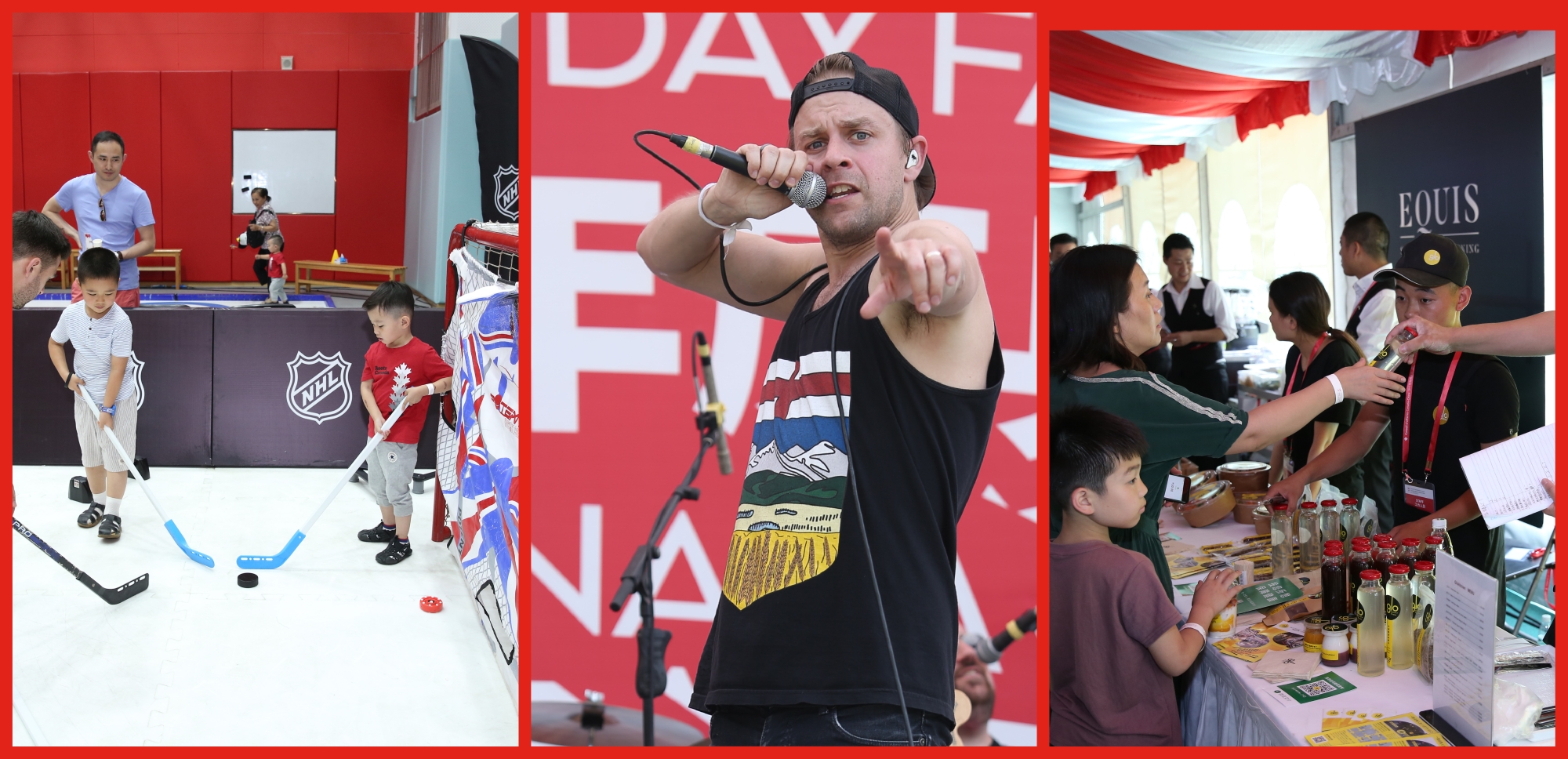 LES POINTS SAILLANTS 2017 POUR LE CCBC
Premier ministre Justin Trudeau : message aux membres et aux invités du CCBC lors de l'AGA 2017.
La 39e AGA et le congrès d'orientation du CCBC
Le congrès d'orientation du CCBC a eu lieu à Toronto le jeudi 21 septembre 2017. Nous y avons accueilli plusieurs conférenciers de renoms, dont M. John Tory, maire de Toronto, M. LU Shaye, ambassadeur de la Chine au Canada, et l'honorable John McCallum, ambassadeur du Canada en Chine.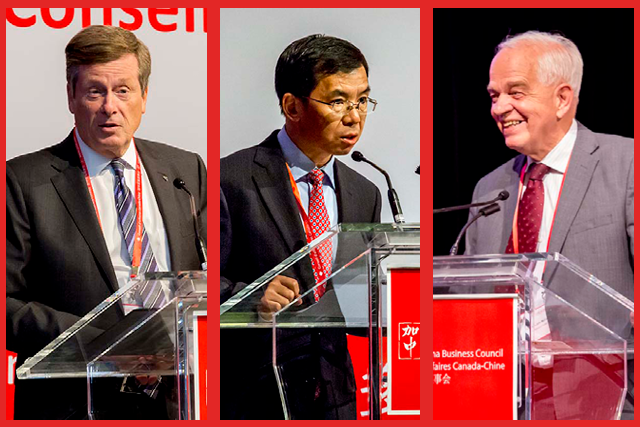 L'adhésion au Conseil d'affaires Canada-Chine (CCBC) vous offre à vous, ainsi qu'à votre organisation, les outils dont vous avez besoin pour connaître du succès en Chine. Avec des bureaux tant au Canada qu'en Chine, notre équipe de professionnels offre aux membres des perspectives d'affaires, des renseignements organisationnels, du réseautage et des liens inégalés qui leur permettent de surmonter les défis que pose le commerce dans un autre pays. Nous étendons ainsi la portée de votre organisation jusqu'en Chine en offrant des directives et de l'assistance sur le terrain.
SERVICES AUX MEMBRES DU CCBC
Les services du CCBC vous aident à réduire les risques que pourrait rencontrer votre compagnie, à raccourcir votre temps de cycle et à prendre de meilleures décisions – quelle que soit l'étape à laquelle vous vous trouvez dans votre développement en Chine. La présence du CCBC sur le terrain aide les entreprises canadiennes à évaluer le marché, à y entrer plus rapidement et à tisser des liens avec les ressources qui les aideront à connaître du succès. Lorsque vous serez établi, le CCBC vous aidera à résoudre les problèmes et à accroître votre présence en Chine.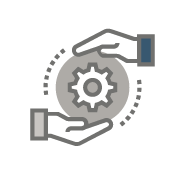 LES SERVICES ET LE SOUTIEN COMPRENNENT:
Des conseils pour l'ébauche d'une stratégie en Chine
Des conseils sur les relations avec les gouvernements
Des séances d'information pour les dirigeants et les initiés
Des contrats avec les secteurs privé et public en Chine et au Canada
Des analyses des changements réglementaires et politiques qui pourraient affecter votre entreprise
Des recommandations et des présentations à des fournisseurs et partenaires commerciaux chinois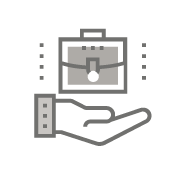 MISSIONS, RÉUNIONS, SÉMINAIRES ET ÉVÈNEMENTS
L'assemblée générale annuelle et le congrès d'orientation du CCBC constituent la plus prestigieuse occasion de rencontres d'affaires en ce qui concerne les entreprises, le commerce et l'investissement Canada-Chine
Célébration de la fête du Canada avec présentation d'aliments, de boissons et de produits de consommation canadiens
Rencontres pour les délégations gouvernementales en visite, au Canada et en Chine
Missions d'entreprise et de commerce vers la Chine et à partir de la Chine
Évènements de réseautage, tables rondes, ateliers, séminaires et séance d'information

INVESTISSEMENTS ÉTRANGERS AU CANADA
Le CCBC peut servir de guide aux entreprises chinoises entrant au Canada. Nous pouvons fournir une expertise commerciale sur la façon d'établir votre présence. Nous servons de levier via notre bonne connaissance des entreprises chinoises et via nos liens avec les entreprises canadiennes et avec les membres du CCBC, pour aider nos membres chinois à connaître du succès au Canada.
LE CCBC FOURNIT À SES MEMBRES UNE GAMME EXCLUSIVE DE SERVICES LEUR PERMETTANT DE CONNAÎTRE DU SUCCÈS EN CHINE.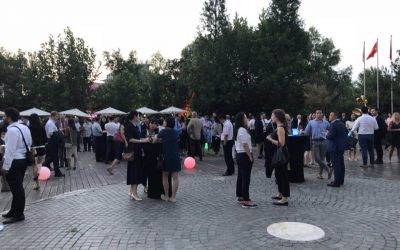 The CCBC Chamber of Commerce – Beijing joined 16 international Chambers for the All-Chamber Networking Reception, that hosted over 300 participants on Thursday, August 23, 2018.
lire plus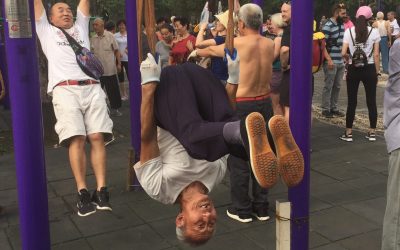 An article by CCBC 2018 media fellowship recipient Mark Leger, discussing his experience in China, was published in Huddle on July 20, 2018.
lire plus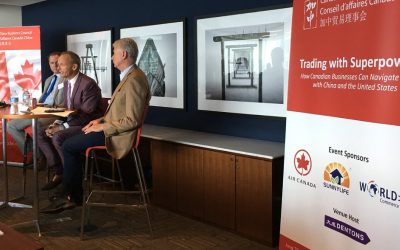 The Honourable Stockwell Day, Vice Chairman, CCBC; The Honourable James Moore, Senior Business Advisor, Dentons, and National Board Member of CCBC; and Stewart Beck, President and CEO of the Asia Pacific Foundation of Canada, discussed how trade relationships between Canada, China, and the United States are intertwined, and what this means for BC's businesses at a panel discussion on Tuesday, June 26, 2018, in Vancouver.
lire plus