Canada looks to expand China trade
Author: NA LI
Publisher: China Daily
Publication Date: October 17, 2018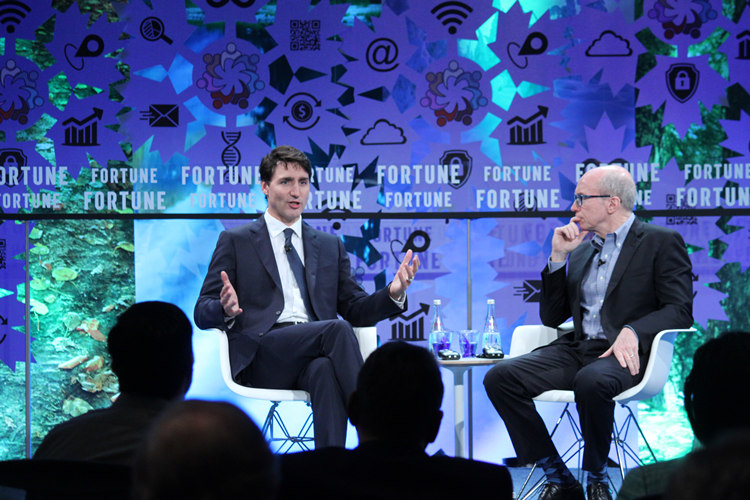 Canada is open to more trade with China and looks to expand trade relations between the two countries,
Canadian Prime Minister Justin Trudeau said at the 2018 Fortune Global Forum on Monday.(NA LI/ CHINA DAILY)
Responding to Fortune president Alan Murray's comment that the newly concluded US-Mexico-Canada Agreement is "really about China", Trudeau stressed the importance of free trade based on global trading rules, and said China remains a vital global trading partner with opportunities to offer.
"Obviously, China is the world's second-largest economy and growing. We will remain an important place to do business and look for opportunities with China," Trudeau said, adding that the "reciprocal" clause does not stop Canada from doing business with whom it pleases.
Echoing Trudeau at the forum, Graham Shantz, president of Canada China Business Council (CCBC), said that nobody will win the trade war, and CCBC's Canadian members have benefited "tremendously" from the global market, "particularly" the China market.
"We celebrate our 40th year of growth this year, at the same time that China celebrates 40 years of its reform and opening up policy. This policy has led to so much prosperity in China today," Shantz told China Daily.
"We're very supportive of the Canada and China foreigners' investment promotion and protection agreement," he continued. "We're supportive of any structure which has provided opportunities for our members going to China and for Chinese companies coming to Canada."
Chinese business leaders on the Fortune 500 list, who seek to expand their global footprint with multinational companies, are optimistic about successful growth and investment between China and Canada.