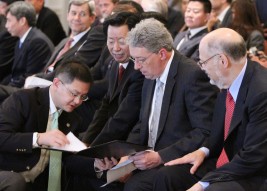 A CCBC membership offers you and your organization the tools you need to succeed in China. Our team of professionals provides members with unrivalled business insight, intelligence, networks and connections to overcome the challenges of doing business in another country. We extend your organization's reach in China by providing on-the-ground guidance and assistance.
The CCBC provides quality services and support to more than 250 member organizations and over 2,500 business professionals from both countries. We help organizations big and small from all sectors of the Canadian economy enter and operate in China. We also help Chinese investors enter and successfully operate in Canada.
The Canada China Business Council (CCBC) was founded in 1978 as a business association for leaders in Canada-China business, trade and investment. The CCBC is Canada's preeminent leader in business, trade and investment relations with China. We engage Canadians on the fast-growing opportunities with China, facilitate the success of Canadian business in China, and advocate on issues affecting Canada-China relations. We are a trusted source of information and opinions on Canada-China business and policy.
The CCBC is also the de facto Canadian chamber of commerce in Beijing. We export the "Canada Brand" to China.
Our Business Incubation Centres in Shanghai and Montreal attract small and medium-sized enterprises, entrepreneurs and start-ups seeking to take their first steps in a new market.
We are dedicated to our members' success in China and Canada.